WordPress 5.5 was release on August 11th, and while it's mostly been a very smooth update, we've seen a few issues cropping up for some of our customers. Especially customers using older themes or plugins.

As part of a longer term plan to update jQuery versions that ship with WordPress, jQuery Migrate 1.x was depreciated and removed from core. For some sites with older themes or plugins, this has caused portions of their sites to break or stop working.
While we haven't seen entire websites go down or fully break, smaller issues like sliders not working, empty lightboxes, and other minor javascript issues have been more typical.
How to solve these javascript based issues
The quick and easy answer is to install a plugin that restores jQuery Migrate to the site. A new plugin called Enable jQuery Migrate Helper will add the removed jQuery Migrate script to you site. And it might solve your issue(s). Here's how you do that.
The longer answer is a little more complicated…
If you decide to simple install Enable jQuery Migrate Helper plugin, that's fine but realize that you have taken a step down the road to being left behind. As the internet grows, changes, and improves, software changes and improves with it. Advancements in one area often require that older systems become deprecated. Requiring helper applications or shims that enable outdated plugins and themes to continue to work, rather than updating systems or incorporating the new code relegates the site to outdated code and dependencies.
If you don't want to be permanently stuck with helpers, here's a few options:
Find a modern replacement
If the slider plugin you've been using for the last ten years stops working, look for a newer option to replace it. In the last few years many javascript based software have stopped requiring jQuery and use light weight, vanilla javascript instead.
If you've got an older theme, perhaps it's time for a fresh new look anyway…
Time for a redesign?
While it's not always financially feasible or the return on investment just isn't there – maybe it's time to consider a full site redesign. WordPress is currently in a major transition phase with the Gutenberg block editor and a move towards full-site editing. If you're business has changed since the site was first built, now might be a good time to consider modernizing for the future.
Check out the design work of our sister sites Spigot and Studio2 for more info on how a new, modern site can help your business.
Install Enable jQuery Migrate Helper
A new plugin called Enable jQuery Migrate Helper has recently been released, and might solve the javascript issues you're having. Installing this plugin is as easy as installing any other plugin in WordPress:
Navigate to Plugins > Add New Plugin
Search for Enable jQuery Migrate Helper
Install and Activate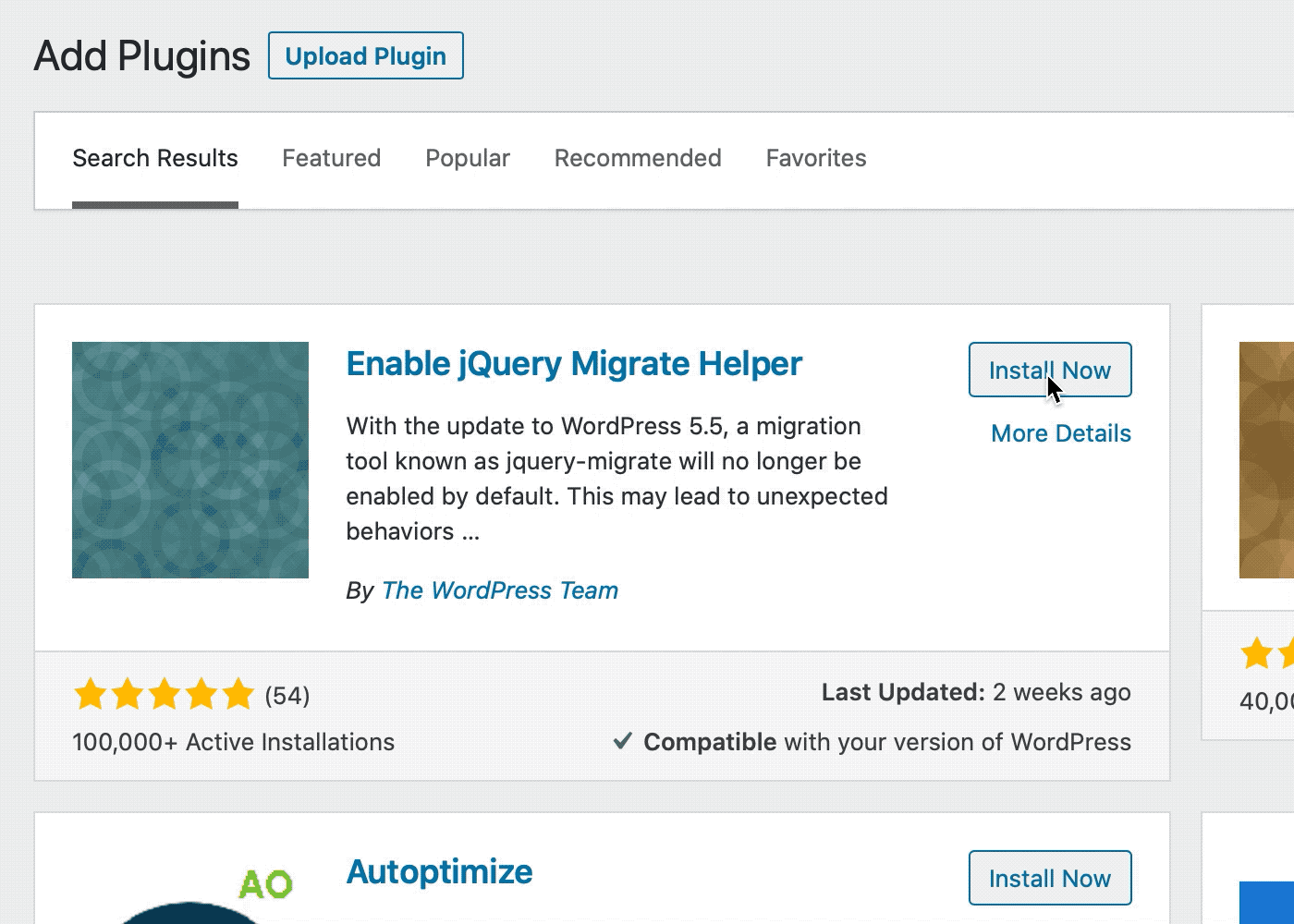 Once the plugin has been activated, check to see if the functionality has returned.