Installing a plugin on your WordPress website is pretty straight forward, and can be done in a few different ways. WooCommerce extensions from WooCommerce.com are installed differently and are managed within the WooCommerce plugin itself.
WooCommerce extension? Aren't they just plugins?
WooCommerce extensions that you purchase from WooCommerce.com are essentially little plugins that extend the features of WooCommerce. And while you do add them using the WordPress plugin installer, they are meant to be managed through WooCommerce -> Extensions.
They are also now subscription-based – meaning you'll need to pay an annual fee to get support and the latest updated versions. You can continue to use the plugin if your subscription runs out – but again you won't continue to get updates. We often recommend WooCommerce extensions over other plugins with similar functionality, despite this cost.
I thought you were going to tell me how to install an extension.
Right.
The right way to install and enable a WooCommerce.com extension is to first connect your site to your WooCommerce.com account. Let's do that.
1. Create a WooCommerce.com account and purchase an extension subscription.
If you haven't done so already, you'll need to purchase a subscription for the extension you want. This will require you to log into your WordPress.com account (or create a new one). You'll then have a WooCommerce.com account that's connected to your WordPress.com account.
2. Download your new extension.
After the checkout process, you should be offered a link to download the new extension. Do that now and save the zip file for later.
3. Connect your site to your WooCommerce.com account.
Connecting your site with your Woo account will allow you to install, enable and update your new extensions.
First, log into your site and go to WooCommerce -> Extensions and click on the WooCommerce.com subscriptions tab. Click on the Connect button:

If you're still logged into WooCommerce.com you'll then see a dialog requesting access: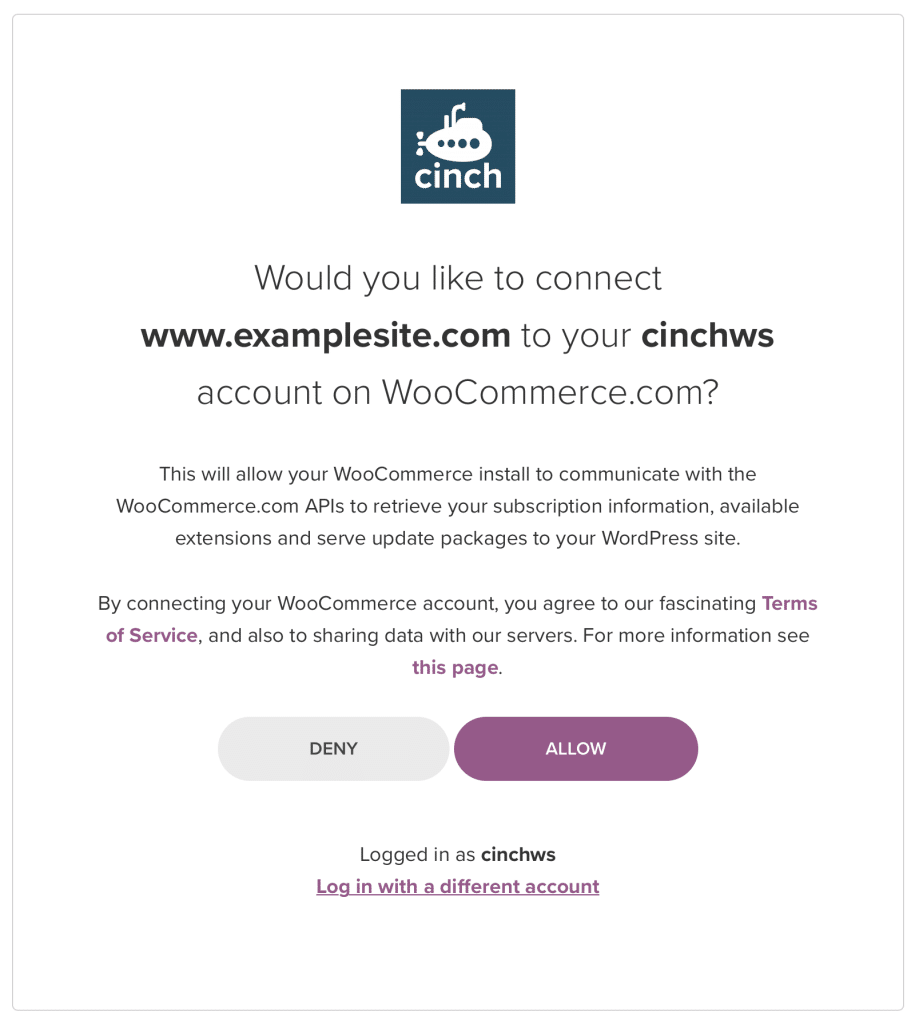 Once you allow access, you should then see a list of your available extensions:

4. Install the extension via WordPress plugins.
It would be really great if at this point WooCommerce allowed you to install and activate the extension directly from the subscriptions page, but for now, that isn't the case. You'll need to use the standard WordPress plugin install system and upload the zip file you downloaded earlier.
Go to Plugins -> Add New -> Upload; Find your file and upload; Activate
5. Activate the extension back in WooCommerce.com Subscriptions.
Once the extension is installed and activated, let's do a second activation to make sure we get updates and notifications. Go back to WooCommerce -> Extensions -> WooCommerce.com Subscriptions. You should hopefully now have the ability to activate your new extension:

Click on the INACTIVE toggle to activate:

And that should do it. You'll now receive notices and be able to update the extension through the WordPress update system.
Auto-Renew WooCommerce.com Subscriptions
You may notice in the screenshots above the extension is set to auto-renew and the renewal date. We love this feature because of how many extensions and plugins we manage, and suggest that you do the same. It's way to easy to let a subscription lapse and get caught out of date.
If you're not keen on auto renewal and prefer to manually renew, you can enable and disable auto-renew on your WooCommerce.com account. Log in and head to Subscriptions. In your list of extensions, you'll see a similar toggle switch to auto-renew:

Photo credit: Jaroslava Petrášová