When WordPress 5.0 gets released, a new content editor, currently named Gutenberg, is slated to be included. This will be a major change to the way content is edited in WordPress, so let's take a closer look at Gutenberg, and what it means for your website.
Guten-what?
As a website owner, you may not yet have heard of Gutenberg. But it's been on the WordPress horizon for over a year and is still being heavily developed to be ready by WordPress 5.0.
Gutenberg is set to be the new way to edit content in WordPress. It will replace the TinyMCE post content editor that you've used for years. It will be much more robust and powerful, however, offering a block-based system to build up content: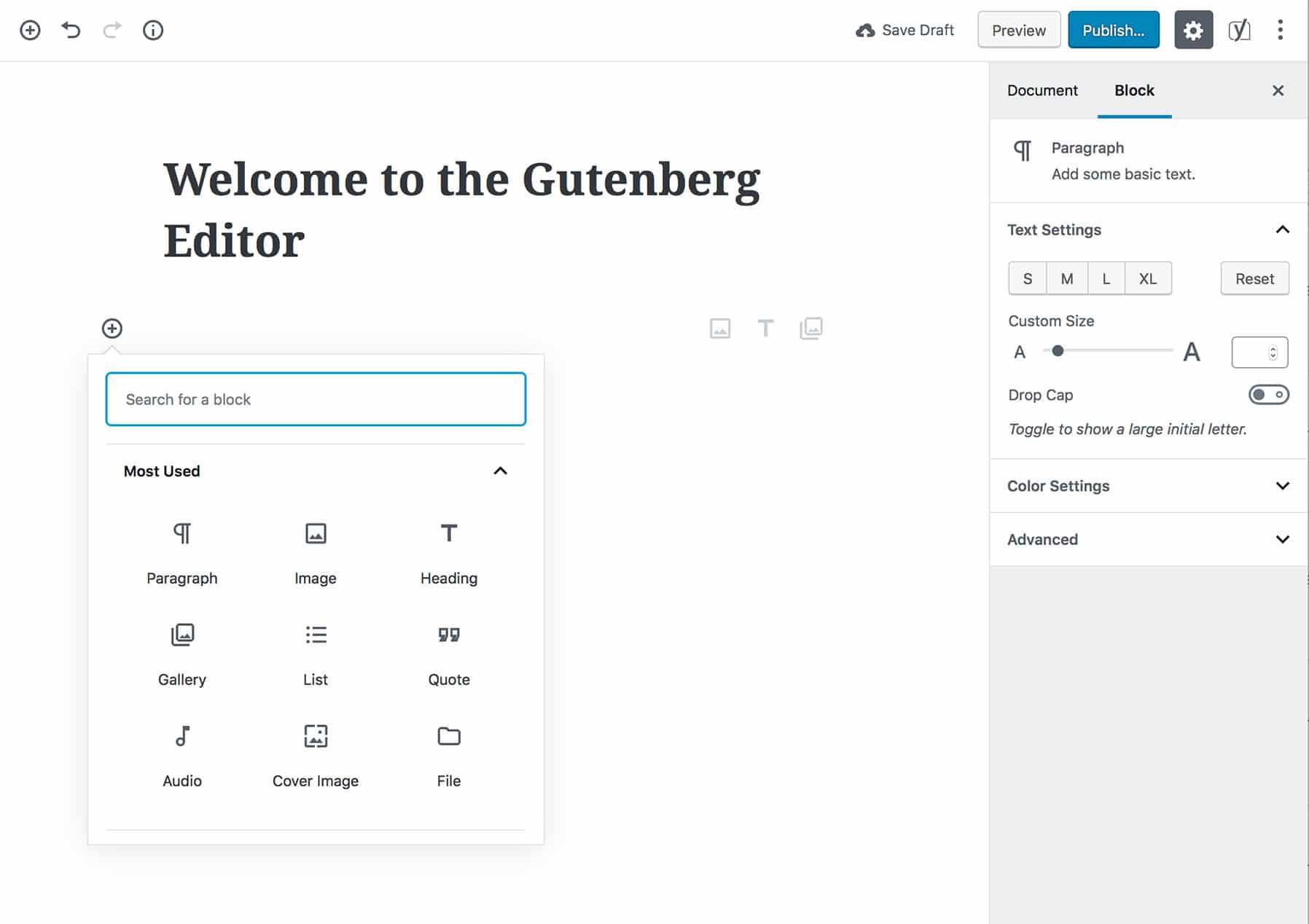 Gutenberg is meant to make it easier to create feature rich content and more complicated post layouts. What used to take shortcodes or embedded html will now be available in a more drag and drop fashion.
What does this mean for everyday WordPress users?
When Gutenberg does finally arrive, it will be a fairly major change for WordPress site owners and publishers. The editor user interface is going to look quite different, and the tools you are used to will be relocated or hidden. There will be a learning curve.
Thankfully, we don't think the learning curve will be too steep. The interface is very intuitive and a little poking around will reveal the tools you're used to. As you explore the content options, you'll find it much easier to add quotes, lists, images, and more.
Given enough time and a little patience, we think you'll really like using the new content editor.
Will it break my site?
Gutenberg is being developed to be as backwards-compatible as possible. That said, it will need to be ready to work with thousands of themes and plugins, and may cause problems with your site.  
If you are using a newly released premium theme, or one that is under active development, you most likely will not run into any issues. It's up to your theme developer to make sure their themes are compatible, and there is still time for developers to get up to speed. 
Sites built as custom themes should mostly be alright as well, especially if your site was built by Spigot or Studio2. 
If you find that Gutenberg does break your site, give us a shout and we can take a look at getting your site back up and running.
Gutenberg and Page Builders
Many sites these days use page builders like Divi Builder, WPBakery (Visual Composer) and Beaver Builder. These builders do much more than Gutenberg is capable of, and are consider more full page-layout tools. 
From our testing thus far, each of these three page builders work okay with Gutenberg. If you are used to creating your posts and pages with these tools, you'll want to continue using them after Gutenberg is released.
Try Gutenberg now

If you've opened up WordPress lately, you'll likely have seen the above message waiting for you. The development team is eager to get users to try Gutenberg now to help get feedback and work out the kinks. 
Download Gutenberg straight from the welcome window on your WordPress Dashboard. If you've already dismissed it, you can see it again by choosing Screen Options > New Editor:

Gutenberg can also be downloaded from the WordPress Plugin repository: https://wordpress.org/plugins/gutenberg/
We've been using Gutenberg for a few weeks now without issue. It's not nearly as feature rich as the page builder we use (Beaver Builder) but overall it's a nice experience. 
What if I hate Gutenberg?
If you give it a try and your world comes crashing down, there are ways to continue using the Classic Editor. 
For now, simply uninstall the Gutenberg plugin. Hopfully any blog post written with Gutenberg will continue to display correctly. If not, let's hope you didn't write too many posts with it. When Gutenberg becomes part of core WordPress, you can install the Classic Editor plugin here: https://wordpress.org/plugins/classic-editor/

Gutenberg support at Cinch
We're eager to usher in this new era for WordPress. We hope that you are excited as well. If you are nervous about what kind of changes Gutenberg will bring to your site, please do check out the plugin and start testing now with a post or two. 
If you're a Cinch subscriber, you have a solid bank of backups and any issue you have with Gutenberg can quickly be restored. 
Feel free to reach out with any questions via chat, we'er here to help!