Getting support on WooCommerce.com extensions has steadily improved over the last few years. The ticket system has been upgraded and the response times have slowly gotten better. But as much as it's improved, WooCommerce.com support has always been slow. Even now I don't expect a reply for at least 48 hours if it's mid week. If I create a ticket on a Friday it's even longer.
So I was pleasantly surprised when I logged into get support on an extension and found a button to start a live chat. In a few seconds Thomas was on the other end after a few minutes my issue was solved. So rather than wait a few days for a response, and likely losing context, my questions were answered, and the WooCommerce team doesn't have a ticket in the queue. All in all it was a great experience, the type that can only help WooCommerce become a better product to customers.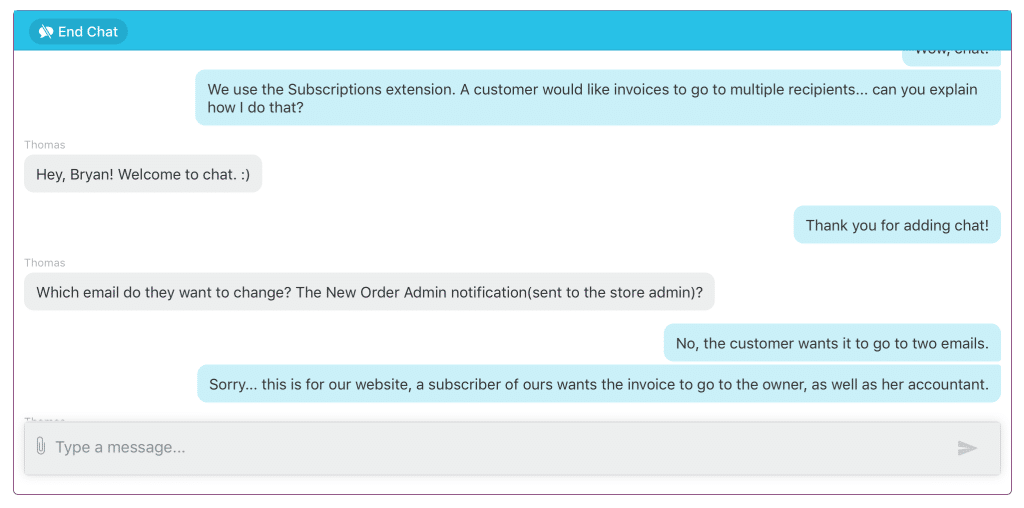 Rolling it out slowly
During the chat I asked Thomas a little bit about the new chat system. He said they've been slowly rolling it out in a testing phase. It seems the roll out isn't targeted at specific users though. I logged in a few days later and chat wasn't available at around 4:30pm (GMT+6). It will be interesting to know if the chat availability is specific times, or if it's based on staff availability. If you have any experience with live WooCommerce.com chat leave a comment below. Maybe we can figure this out together.
Count us as fans
We are HUGE fans of live chat for support. The ability to answer a question in a few minutes instead of waiting days for a response is good for both customers and support teams. We answer a lot of questions here on this site through chat – both on general WordPress questions and about our WordPress maintenance plans. Customers get quick answers, and our support queue doesn't get backed up. I hope that the WooCommerce support team continue to roll out live chat support to a wider audience, for longer hours.
Leave a comment below if you've used WooCommerce live chat support. I hope they roll it out full-time soon, but until then, maybe there's a pattern to the availability.